Quest Leadership Certification Program
128 Hours of Personal and Professional Development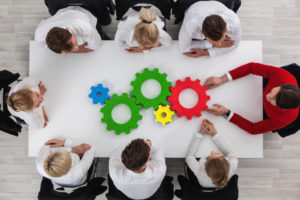 Your Role As a leader, you are responsible for inspiring and serving the individuals entrusted to you. Your ability to understand the individuals on your team and their personalized style and needs will enable you to be better equipped to coach, train and support each of them and serve as a tool and resource for their personal and professional development.
Applying the leadership concepts gained through the various leadership development courses included in the program will allow you to impact increased productivity and growth in your office and increased consistency and longevity within the Insperity sales organization.
The Program
The Quest Leadership Certification Program is designed to develop leaders equipped with the skills and tools to better understand themselves and others in order to work effectively together. The certification consists of seven leadership development courses offered at various times throughout the year, either on-site, here in Houston or via webex based training. Successful completion of all seven courses will result in the award of the certification.
The Curriculum
• Situational Leadership II
• DISC – Human Behavior
• DISC Part II – Advanced Human Behavior
• Speaker's Boot Camp: Presenting and Selling According to Style
• Leading with Influence
• Servant Leadership
• Personality Table Talk – Team Dynamics
---
Leadership Certification Courses
Situational Leadership II
The Situational Leadership II certification provides leaders with the skills to be able to flex their leadership style based on the developmental needs of their people. During the course, they will learn how to best address competence and commitment for each task that is essential to the success of each of their people and ultimately the success of their office.
DISC
The DISC certification training provides the basic understanding of the DISC Model of Human Behavior, which equips an individual with the skills to connect with people with all different personality styles, increase productivity by utilizing their natural strengths, and decrease conflict and stress by meeting their individual needs.
DISC II
The DISC Part II certification training provides a deeper look into the DISC Model of Human Behavior with additional application opportunity and also includes the Team Table Talk training, which allows a leader to create, understand and lead a successful team of BPAs with valuable insights in four key areas.
Speaker's Boot Camp
Speakers' Boot Camp allows a leader to learn invaluable skills and insights on how to sell, teach and present to varied audiences and individuals based on insights from a panel of experts representing the four basic personality styles in the DISC Model of Human Behavior.
Leading with Influence
The Leading with Influence training provides 10 key insights all leaders need to know before leading others.
Understanding Others Personality Style
First Four Minutes of Influence
How Beliefs Impact Behavior
This is Who I Am – Self-Image
Goal Setting and Goal Getting Your Character Foundation as a Leader
Handling Emotions – Emotional Intelligence
Moving Outside Your Comfort Zone
Communicating with Influence
Decisions – React or Respond
Servant Leadership
Servant Leadership allows a leader to create a framework based on the logical and personal needs of their people. Insperity believes strongly that the best approach in leading others is based on the Servant Leadership principles of Patience, Kindness, Humility, Respectfulness, Selflessness, Forgiveness, Honesty and Commitment.
Personality Table Talk- Team Dynamics
As a leader you will work with your team on the following four areas:
Problems and Challenges
People and Information
Pace and Change
Rules and Procedures
Each leader will be equipped to better understand, coach and lead their people in these four critical areas.